Colin Harper
is the author of
Dazzling Stranger: Bert Jansch and the British folk and blues revival
(Bloomsbury, 2000; revised ed 2006; 2nd revision 2012); co-author with Trevor Hodgett of
Irish Folk, Trad & Blues: A Secret History
(Collins Press, 2004); author of
Bathed In Lightning: John McLaughlin, the 60s and the Emerald Beyond
(Jawbone Press, 2014); and co-author with Andy Powell of
Eyes Wide Open: True Tales Of A Wishbone Ash Warrior
(Jawbone Press, 2015).
He wrote professionally for
The Irish Times, The Independent, The Irish News, Q, Mojo, Folk Roots, Record Collector, The Guitar Magazine
and other titles between 1994-2001, specializing in folk and rock music history and music within or from Ireland. From January 2012, he has returned to professional writing. Aside from his books, he has been involved in many historic CD reissues and archive releases across folk, trad, jazz and rock genres, including substantial annotative essays: examples including many releases documenting Quintessence, Pentangle, Duffy Power, Atomic Rooster and most recently 1970-71 British progressive jazz in The Turtle Records Story (RPM, 2015).
Colin has a PhD in Cultural Studies and brings academic rigour to his research but has no interest in writing in an academic style: his books are often acclaimed for marrying depth of research with an accessible, even fun, writing style.
Sample Press Quotes For Previous Works:
'A vivid portrait… Harper's book not only does the subject justice, but is also an indispensible guide – the best yet written – to the Brit jazz scene in the 1960s...'
Stuart Nicolson, Jazzwise
,
March 2014
'Harper's treatment leaps from the page… perceptive and authoritative… forensic detail. A celebration of a dues-paying twilight world that is now on the verge of passing out of living memory. Essential reading…'
Sid Smith, Prog, March 2014
'Masterly first major biography of John McLaughlin…'
Fred Dellar, Mojo, August 2014
* * * *
'Exhaustive and insightful… leaves no stone unturned… an absolute must-read…'
Bill Milkowski, Down Beat, May 2014
'Exhaustive… fascinating… arresting…'
Rob Young,
The Wire
, September 2014
'This is a labyrinthine work… How Colin Harper had the mental tenacity to string together the disparate threads of music from the decades he covers is difficult to comprehend - but he pulls it off without ever being dull… An epic work by anyone's standards.'
Joel McIver, Record Collector, March 2014
'Harper's prose and his musical knowledge often spark into life… [He] is clearly an authority to be trusted, and he can be very funny.'
Ian Pople,
theManchesterReview.co.uk
, November 2014
'A work of meticulous, almost overwhelmingly detailed research, based around McLaughlin's extraordinary career… Harper has written an amazingly detailed, easily read reference book about a fascinating musician, an era and its music.'
John McBeath, The Australian, June 2014
'Harper's level of research is highly impressive… This book is a fascinating read as well as a great reference book of a special musical time and place…'
JC, Bebop Spoken Here
,
June 2014
'Plaudits to Colin Harper for fantastically detailed research ... [He] writes with great immediacy and a tone somewhere between the old
Melody Maker
and the work of Ian MacDonald ... A book for anyone interested in British music of the period.'
Brian Morton, Jazz Journal
,
May 2014
'Only about a quarter into it and it's already amazing. Author Colin Harper really captures the sights, the sounds of London in the '60s, and McLaughlin before he became the name he now is … Colin is more than just a well-researched author, he has a real ability to evoke atmosphere and ambiance. It'll take time to finish, but it'll be well worth the time invested.'
John Kelman,
AllAboutJazz.com
, 2014
'A work of considerable importance, scholarly beyond the bounds of traditional rock biography, intuitive and informed.'
'Hats off to Colin Harper… highly readable, highly informative and predominantly entertaining.'
'The folk scene in which Jansch came of age has found an excellent chronicler in Colin Harper.'
Times Literary Supplement
,
September 22 2000
'An excellent biography... Harper's narrative is first-rate...'
Independent on Sunday, 2000
'Extraordinarily enthralling and valuable: a major work of Brit-folk scholarship, and fun with it.'
'The model of what a music biography should be.'
Irish News, August 19 2000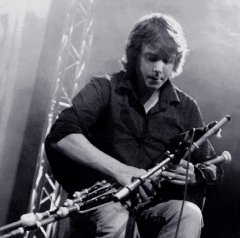 John McSherry has been a major figure in Irish music for almost twenty years now and is hailed as one of the finest exponents of the art of Uilleann Piping in the world today -- "a true master" -- Irish Music Magazine. He won two All-Ireland piping championships at the age of fourteen, along with numerous Ulster and county titles and became the youngest ever winner of the prestigious Oireachtas Piping Competition in 1988, going on to represent Ireland at the Lorient Inter-Celtic Festival that year as a result.
A founder member of top trad bands Lúnasa, Tamalin and Donal Lunny's ground-breaking supergroup Coolfin in the 1990s, John has subsequently produced an array of critically acclaimed and innovative albums, both solo and collaborative, and continues to push the boundaries of Irish music with his current bands At First Light and The Olllam.
His piping has featured in film and TV soundtracks (Simon Schama's A History of Britain, Waking Ned Devine, This Is My Father) and he has twice been the recipient of an IMA award: 'Best New Irish Album' (2010) and 'Best Uilleann Piper (2009). John has performed at the Royal Albert Hall, Glastonbury Festival and practically every major folk festival in Europe and America, along with tours of Japan and Australia and is widely admired on the Irish traditional scene as an offstage character and an onstage magician. He is a composer, producer, arranger and an established studio session musician of world class renown, recording and performing with a myriad of artists including Clannad, Sinéad O'Connor, Rod Stewart, Nanci Griffiths, Gary Kemp and The Corrs.
"John McSherry is a hugely expressive musician who combines a deep understanding of the Irish tradition with the kind of spontaneity and invention more often associated with jazz.." Rob Adams - The Sunday Herald (July 2010)
"It's not just the precision of his playing, but its powers of sheer invigoration which confirms McSherry as one of Ireland's foremost pipers…." - Geoff Wallis - Songlines Magazine (July 2006)
"McSherry's piping both places him in the forefront of modern innovation.. and establishes his place in the traditional line of succession stretching back to Johnny Doran." - Stephen Hunt – Green Man Review (2003)
"..the most fearless adventurer is piper John Mc Sherry, who can build a whirling spiraling solo in almost John Coletraneish style.'He's actually a great Led Zeppelin fan' Lunny explains. 'He can improvise no problem.'" - Alister Clarke (Sept 1998)
"..a true master of the pipes.." - Karl Kinsella – Irish Music Magazine (Sept 1997)
'John is a musical giant…' - Donal Lunny
---
To buy John McSherry's music, please follow the link below:
John's latest album, "Ulaid" is available from the link below:
---
To subscribe to our mailing list for notification of events related to the book,
as well as the book's publication, go
HERE