Extract 2: The Bothy Band
Note:
The Wheels Of The World
contains over 50,000 words on Seamus Ennis (1919-82), a legendary piper and storyteller, an authority on Irish folklore and one of the greatest characters in the history of Irish traditional music and broadcasting. Séamus was a full-time collector of traditional music for three institutions in his early life: The Irish Folklore Commission (1942-47); Radio Éireann (1947-51); and the BBC (1952-57). After this, he was a freelance broadcaster and musician, not well-adapted to a conventional lifestyle but a larger than life figure who became increasingly iconic in the Irish cultural world. He died in 1982, having become, as Andy Irvine noted, 'almost like a god'.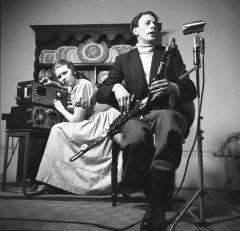 A concert at O'Connor's pub in Doolin, County Clare, on August 3 1959 was Séamus' first appearance in Ireland for many years and featured him on a bill with Leo Rowsome and the London-Irish fiddler Martin Byrnes amongst others. Séamus had something to prove – and, luckily, Radio Éireann recorded it. Nearly an hour into the show, after a superb textbook set of five pieces from Leo Rowsome early in the proceedings and a mixed bag of other acts – including a man with an appallingly out-of-tune melodeon and a priest singing in the drawing-room style of John McCormack – Séamus came onstage and unleashed three pieces of magical playing. Two of these, including 'The Silver Spear/The Dublin Reel', played at atypically blistering speed, were later released on
The Return From Fingal
(RTÉ, 1997).
[1]
If the Doolin 'comeback' was important for Séamus' soon-coming permanent return to Ireland, a Saturday night performance at the Troubadour, pillar of London folk clubs, on February 28 1959 was to have far-reaching consequences for the British folk revival.
Jenny Barton, running the folk nights for Troubadour owner Mike van Blumen, had created a thriving scene largely through a 1958 residency by Ramblin' Jack Elliott.
Jenny Barton:
I was still fairly new to folk music. I hit it about '58, [the] year of my 21st birthday. Most of the time, then, if there was a folk thing going, I tried to be at [it] – and you could be at every one [of them] then [in London]. I'd heard it first on the
As I Roved Out
programmes, and I'd heard Séamus a year earlier on a programme called
Sons Of The Sea
. I have the script that Séamus wrote for himself. When I [later] told [him] that that's where I'd first heard him, he rummaged in his pipe box and said, 'Jenny, I think you'd better have this …'
In the audience on February 28 1959 was Martin Carthy, a 17-year-old who would be galvanised by the performance into a career as one of the most pivotal artists in English traditional music for the next 50 years and counting:
Martin Carthy:
Our local hero was Robin Hall, when I was 16 [or] 17. I got talking to him. He was a funny bugger, but basically he said, 'If you want to hear proper folk music, you've got to go down to the Troubadour in Earl's Court. And I thought, 'Okay, I'll go to the Troubadour.' I didn't go down straightaway; it was sort of in the back of my mind until one Saturday, for absolutely no reason, I walked into the tube station and got the train down to Earl's Court. The ceiling and the walls of the Troubadour were all hung with old instruments. It was fashionably gloomy. The whole place was low lighting, lots of candles. I thought this place was absolutely wonderful. And as I walked down the stairs – the club was downstairs – I heard these pipes playing, and I thought, 'Oh, bagpipes, I know what bagpipes are.' I walked in and there was this bloke – and he wasn't playing the bagpipes properly! I knew about the Scots bagpipes – you stood up – and I'd
heard
about the Northumbrian pipes, but there he was, this man sitting down in this gloomy light, and I always say he looked like he was wrestling an octopus. I was just absolutely stunned. He played the pipes and it was absolutely beautiful, and then he sang a song and he played the whistle and he told stories – and I was completely mesmerised. What was his name? Séamus Ennis. And it stayed with me. I went away with this feeling I had in my head after that – it was just a fabulous evening.
I went and bought that record he made for Tradition,
The Bonny Bunch Of Roses
. I still have it, I love that record. And I loved his whole approach, his whole attitude. He was such a beautiful player – a lovely, relaxed style. He could be very, very funny. And very, very informative – a very clever man, and highly opinionated, and very, very kind. I met him later on, when he was staying with Jenny Barton. I went round when I thought I could play a bit and played a couple of tunes, and he was very patient and he sat there, and he played a couple of tunes. We didn't play together because, frankly, I didn't know what to do. I was completely unable, I had no technique – I just wanted to hear him talk. And he talked. He talked about music, and he was fascinating.
Séamus' encyclopaedic memory for matters of folklore was not matched by similar skills in personal organisation:
Jenny Barton:
When we organised for him to come down, I made sure his wife knew where he was meant to be going. [But] when we had to get him home, he couldn't remember what bloody street he lived in! He was not noticeably drunk, but very absent-minded.
Three months later, on May 29, Jenny and Martin heard Séamus again, this time headlining a concert compèred by singer/guitarist Steve Benbow:
Jenny Barton:
I can remember Martin taking what I thought was a school bag – and he says no, it wasn't, it was a bag of music stuff – and balancing it against a chair leg. And I remarked to whichever girl was sitting beside me,
'Who on earth is this kid? Is he old enough to be here?'
Séamus, shall we say, had drink taken. Steve Benbow seemed to be compèring the thing. As he was playing, Séamus started to keel over [in slow motion]. And Steve Benbow fielded him, very gently pushed him back up. And he never stopped playing!
Reg Hall:
He was a big romantic. I always found him entertaining, any of his concerts I went to. I saw him at one or two things, and he had a huge charm in his presentation. There was a point where the pipes would go wrong and he wouldn't be piping much – there was a time in London when his pipes didn't work – and then he had this notion that he was the only tin whistle player in the world. I actually heard him say, 'I introduced the tin whistle to London.'
'What the hell are you talking about?'
I thought.
Everybody
could play the tin whistle!
On one occasion he went on in an Irish concert at Hammersmith Town Hall with [fiddler] Jimmy Power. They worked out what tunes they were going to play in duet, and they go up on the stage to play, and then Ennis said, 'Now, Power, when we do those reels, when we go into the second reel, you lay off – don't you play, I'll break into it, I'll play it through once, then you come in.' So they're on the stage, and 10 minutes later they go into this routine, they come to the second tune and Jimmy stops playing, Ennis goes on a little and then says,
'Power! God, I would have thought you knew that tune!'
And Jimmy Power was absolutely livid, furious – would never play with him again.
Early in 1960, Séamus took part in loose ensemble sessions at Cecil Sharp House, recorded by his former colleague Peter Kennedy for a series of three themed albums of skiffle-ish folk songs –
A Jug Of Punch
,
A Pinch Of Salt
and
Rocket Along
– for HMV. Among the cast were Steve Benbow, Shirley Collins, Jimmie Macgregor, Bob and Ron Copper, Cyril Tawney and Isabel Sutherland. It was a fair snapshot of that part of the nascent British folk revival which would have been vaguely apparent to people from radio and TV, several of the artists being already known from broadcasts. Séamus was present on the first two albums, singing two songs on each and playing whistle on songs by others, but
A Jug Of Punch
is especially interesting in being the only occasion when Séamus released commercial recordings backed by a band: his 'Football Crazy' and 'Brian O'Lynn' feature combinations of guitar, mandolin, banjo and bass along with his own vocals and whistle.
Séamus' luck with BBC commissions, however, was beginning to run out: 'It was a complete change after affluence. I've known what it is to be hungry.'
[i]
One of his projects involved a performance 'not passed for broadcast'. At times he took work as an electrician's assistant, with a friend from Limerick, at four shillings an hour. Bob Davenport, who feels that Ewan MacColl and Alan Lomax had also frozen him out of their circles, was a witness to the decline:
Bob Davenport:
I was passing by this pub on the way up to the tube at Swiss Cottage and I heard this voice, 'Bob!' and it was Séamus. It was a lovely day, and he said, 'What are you doing?' I was going down the West End for something. He said, 'Come with me, I'm going down to the George' – this BBC pub. There was a man called Francis Dillon who was producing Irish things. … I said, 'No, I don't want to go down the George, it's lunchtime,' you know. 'Oh, come on, come on, come on …' So I got in a taxi with him, which he couldn't afford, and Francis Dillon was at the bar, talking to three or four cronies, and Séamus says, 'The usual, Francis!' He looks at him and sends a whisky over to him, and then Francis just continued to talk to these people and blanked Séamus. And Séamus tried to buy himself in. Somebody else there in the same circumstances said to me, 'He's drinking at the wrong producer.' The BBC then, I'll tell you, if you thought Florence was a place where you had to guard yourself from a knife in the back, the BBC in the 1950s made Florence look like a bunch of amateurs. It was sad. He was drinking more and more. … Séamus was too innocent, in a way. He fell out of favour, and they stabbed him.
Séamus:
One day a senior producer in the BBC said to me – you know, I used to drop into the local at lunchtime, looking for work – he said, 'Do you know, Séamus, this is the British Broadcasting Corporation, not the Irish Broadcasting Corporation.' So I said, 'Thanks for the hint,' and I came home.
[ii]
Séamus returned to Dublin. He had no correspondence with anyone at the BBC for six years. He had separated from Margaret and the children before the end of the 50s, perhaps being simply unsuited for family life. He would have no contact with his children for 10 years.
'His wife had thrown him out, I think,' says Jenny Barton. 'She was making a living as a schoolteacher, coping with two children, and Séamus was just no help. He may have been charming and exciting and all that but, God, you wouldn't want to be married to him.'
The final BBC radio appearance in this phase of his life was in June 1960, telling the story of 'The Bold Fisherman' on
Monday Night At Home
. And where his home was, at this stage, had become a moot point.
---
[1]
The full 80 minutes of the RÉ recording can be heard at the Irish Traditional Music Archive (ITMA), Dublin.
[i]
Unpublished part of an interview by Mícheál Ó hAlmhain, 16/12/72, source: ITMA, Dublin
[ii]
The Séamus Ennis Story
(RTÉ, 1988), Prod: Peter Browne
Note: The extract below derives from a 17,000 word chapter on Paddy Keenan, one of the most exciting living pipers, whose recording career began with a solo LP in 1974 followed by a period of notoriety in Britain and Europe with The Bothy Band over the next five years, where extensive media coverage ranged from The Val Doonican Music Show on the one hand to the John Peel Show on the other. The Bothy Band made four albums and very little money, but – building on the BBC broadcasts of Séamus Ennis in the 50s and the popular folk club touring of Finbar & Eddie Furey in the late 60s – they gave the uilleann pipes significant visibility as an instrument outside of Ireland. The chapter includes fresh interviews with all five surviving Bothy Band members (1976-79): Paddy Keenan, Matt Molloy, Dónal Lunny, Kevin Burke and Tríona Ní Dhomhnaill. This extract begins with Kevin replacing Tommy Peoples in 1976.
Kevin Burke was born and raised in London, and had been brought up with a European art music education and a fondness for the London-Irish music scene. Having debuted dazzlingly on record, through a chance meeting with Arlo Guthrie in 1973, he had then played in a band called Lazy Reel in England before drifting into Christy Moore's loosely organised road band in Ireland, which occasionally included Dónal Lunny. Kevin and Dónal had also both played on the Pumpkinhead LP, which had launched the Mulligan label. Being influenced by the Sligo fiddle tradition and having had formal training, Kevin certainly had a slinkier, more lyrical style and a sweeter sound than Tommy's visceral Donegal tones.
Matt:
Kevin was a great addition – a laid-back, easygoing character with a lovely, lilting Sligo style. I particularly liked his style, influenced like myself by the great Sligo fiddle players, especially Paddy Killoran who was a family friend. But make no mistake, when the fire was up, Kevin was in there to be reckoned with. A great, talented player and a gentleman!
Kevin:
There was no animosity to me in the band about taking [Tommy's] position, but I don't think that was the public perception. I think people felt it was much more hostile than it really was. I heard rumours that Matt had said, 'Well, I'll play with Kevin Burke, but don't expect me to talk to him.' But it was actually Matt who came round to ask me to join!
As Kevin admitted a couple of years in: 'I was a bit nervous about it, because I was a real fan of the band, and then I thought, 'Jesus, it's just a matter of playing the bloody tunes as I thought best,' and after about three days it was mighty.'
[i]
The band was back in Britain for three folk festivals in late July and early August: Cambridge, Sidmouth (their set recorded for Radio 2) and Durham. Before those shows, on July 15, there was a BBC Radio 1 concert broadcast from the Paris Theatre, London, revealing six sets of tunes and songs that would appear on the second album,
Old Hag You Have Killed Me
– which was itself recorded that same month at Rockfield Studios in Wales. It was a productive time. Peter Browne was filling in on pipes for Paddy at the Paris Theatre concert, though Paddy would be back for the Festival shows.
[1]
Shortly after this, the band embarked on what would be their only tour of America:
Tríona:
It was great. It was organised by a friend of Matt's, Mick Casey, who probably said, 'If you were to come out, I'm sure I could get you a few gigs.' We began in the States in, I think, Chicago, and then New York and then into Canada. I think we played a university in New York. [But] it was [mostly] to Irish-American audiences.
Paddy:
We visited St Paul and worked up to Montreal with a major concert in Chicago, some members of the band staying with the then 17-year-old Michael Flatley – I think his dad may have had something to do with the gig. If I remember rightly, we did a house concert where there were people hanging from the rafters, or so it seemed. That venue later became known as the Ark Theater [Ann Arbor, Michigan].
On reflection, Kevin Burke has more a sobering view of both the American expedition and the band's free-and-easy approach in general. He also had a canny instinct that there was a potentially great untapped market:
Kevin:
At the time I just went along with what was going. I didn't really feel there was a proper direction – we just went along with whatever presented itself. That was part of the problem. There was no one to steer us. We had a couple of people who gave us great advice. But we didn't take it!
[The American tour] was very, very amateurish. We used a friend of Matt's, a really great guy, but he didn't know the music business at all. We were playing, say, St Mary's Church Hall, organised by St Patrick's Hurling Club, and stuff like this. If we'd had someone more established, we'd have been playing different venues and thinking in terms of a second tour.
I had played in America previously with Arlo Guthrie, and I met a bunch of American musicians, saw what they did with their folk music – what the Byrds did, what Ry Cooder did, what Arlo did. The folk music was altered to contain contemporary sounds. And I remember thinking at the time, 'I wonder if there would ever be an Irish band to do that?' And then, of course, five or six years later, there am I, doing exactly that. When I was over that first time, I was amazed on two levels: one, I was amazed that these people seemed to have no idea that this kind of music even existed. Irish music to most of them was The Clancy Brothers; they had no idea of the instrumental tradition – outside of the Irish communities, the American version of Kilburn. There seemed to be no knowledge of it even among bluegrass players. My other amazement was how much people seemed to enjoy it when I played, even though they'd never heard it before. I was convinced American people would really enjoy Irish music if they only got to hear it.
Old Hag You Have Killed Me
would be released in the UK in November 1976. The group had headlined at the Queen Elizabeth Hall in September, supported by Paul Brady.
[2]
They were back for a full tour spanning mid-October to at least December 12 (a show at the Shaftesbury Theatre), recording two more BBC radio sessions on the trip. A week before the tour, Matt Molloy had performed at a Comhaltas Ceoltóirí Éireann silver jubilee concert at the Royal Albert Hall. This was all a long way from the boozy back rooms of pubs.
A single with, unusually, both the arresting close-harmony 'Fionnghuala' and the 'Music In The Glen' tune set on the A-side was released on Polydor on November 26. It would be a few years yet before a Gaelic hit single in Britain.
[3]
Where
The Bothy Band
had been gritty and straight-ahead,
Old Hag
had seen greater thought go into the arrangements and production values, with greater variety of mood and dynamics throughout. Mícheál's Gaelic song 'Farewell To Erin', backed with great sensitivity by all concerned, was a masterpiece. Elsewhere, there was plenty for fans of Paddy Keenan's piping to savour.
The Bothy Band had made remarkable progress in their first year. To an extent, they must have been pushing at an open door – a question of the timing being right for a predominantly instrumental band playing Irish music to excite the British media so much and to gain such traction as performers, moving from clubs to concert venues within the year. Nevertheless, the impression is sometimes given, with the broad brush-stroking of hindsight, that The Bothy Band swept all before them. This wasn't the case: they would always, certainly in Britain, be less successful (and viewed as less successful) than The Chieftains.
One snapshot, however imperfect, of the way things were is found in the results of
Melody Maker's
first 'Folk Poll' at the end of the year, with The Bothy Band third in the 'instrumental band' category behind The Chieftains and Scottish band Five Hand Reel. While The Bothy Band are surely more influential today on other musicians than either of these, at the time they were still in the 'fast rising' or 'almost breaking through' stage. The trouble was, they would never quite get beyond it.
Kevin:
We were never comfortable with any of the managers or agents we worked with. … [But] we managed
ourselves
very badly, it's not simply that the managers or agents were at fault. At that time we were an anti-capitalist group of people, just like every other person wearing jeans and playing music. And yet we wanted to enjoy the fruits of capitalism!
There was a feeling in those days, however true, that the international market for Irish music groups could only sustain two or three at any time. In Britain, 1977 would be a breakthrough year for Galway instrumental group De Danann and Donegal vocal/instrumental group Clannad. It was perceived that they were after The Bothy Band's market. Still, as Colin Irwin observed in
Melody Maker
:
The rise in popularity of De Danann over here is likely to be less spectacular than that of The Bothy Band, in that they don't have quite the same sense of drama or immediacy. For one thing they don't have a piper.
[ii]
---
[1]
Kevin Burke: 'There was a period where Paddy had hurt his ankle, and there was another time he'd hurt his wrist, and both of those injuries knocked him out for a while. Peter was the natural choice to fill in.' Paddy believes he had hurt his hand on this occasion.
[2]
Brady's first solo LP,
Welcome Here Kind Stranger
, had been produced by Dónal Lunny and would be released on Mulligan the following month. How Dónal was managing to be apparently everywhere at once remains a mystery, but the recorded history of Irish music is surely the better for it.
[3]
Clannad's 'Theme To Harry's Game', 1982.
[i]
'Kevin the great', Colin Irwin,
Melody Maker
, 13/5/78
[ii]
Melody Maker
, 4/12/76
---
To subscribe to our mailing list for notification of events related to the book,
as well as the book's publication, go
HERE